Icc t20 world cup points table super 12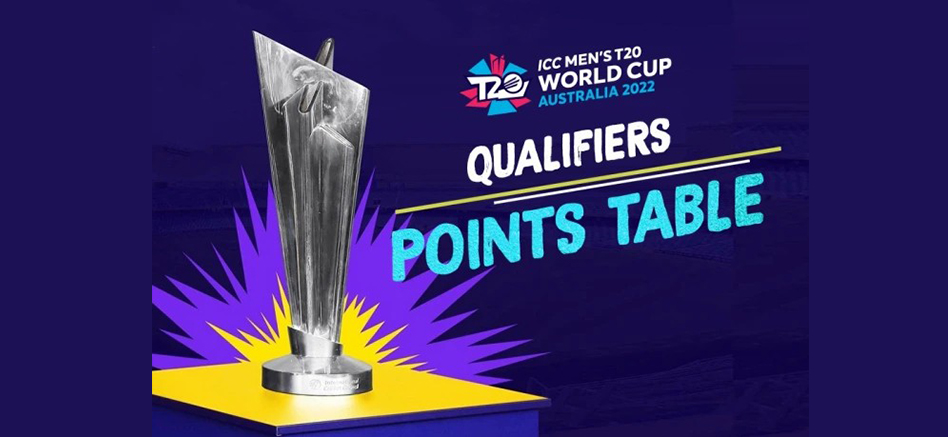 Icc t20 world cup points table super 12
Updated: 24 October 2022
ICC T20 World Cup 2022: Super 12 Teams, Points Table, And Standings. New Zealand astounds defending champions Australia in the first super 12 matches of the T20 World Cup 2022. Kiwis beat Aaron Finch and led Australia by 89 runs at Sydney Cricket Ground on 22nd Oct. While in the 2nd match of Super 12 England crushed Afghanistan by 5 wickets, with the help of Sam Curran's maiden T20 5 wickets.
Sri Lanka, Ireland, Zimbabwe, and the Netherlands reached the Super 12 from the qualifier stage of the T20 World Cup 2022. Two-time T20 WC champions West Indies were eliminated after 9 wickets loss to Ireland in the qualifying round.
Also Read: T20 World Cup 2022: Super 12 Updated Schedule, Dates, Venues, And Time Table In IST
T20 World Cup 2022 Super 12 Teams
Australia, Afghanistan, Bangladesh, England, India, Ireland, New Zealand, Netherlands, Pakistan, Sri Lanka, South Africa & Zimbabwe.
T20 WC 2022 Super 12 Group 1
| | | | | | | |
| --- | --- | --- | --- | --- | --- | --- |
| Teams | M | W | L | P | T/NR | NRR |
| New Zealand | 1 | 1 | 0 | 2 | 0/0 | +4.450 |
| England | 1 | 1 | 0 | 2 | 0/0 | +0.620 |
| Australia | 1 | 0 | 1 | 0 | 0/0 | -4.450 |
| Afghanistan | 1 | 0 | 1 | 0 | 0/0 | -0.620 |
| Sri Lanka | 1 | 1 | 0 | 2 | 0/0 | +2.467 |
| Ireland | 1 | 0 | 1 | 0 | 0/0 | -2.467 |
T20 WC 2022 Super 12 Group 2
| | | | | | | |
| --- | --- | --- | --- | --- | --- | --- |
| Teams | M | W | L | P | T/NR | NRR |
| India | 1 | 1 | 0 | 2 | 0/0 | +0.050 |
| Pakistan | 1 | 0 | 1 | 0 | 0/0 | -0.050 |
| South Africa | 1 | 0 | 0 | 1 | 0/1 | 0.00 |
| Zimbabwe | 1 | 0 | 0 | 1 | 0/1 | 0.00 |
| Netherlands | 1 | 0 | 1 | 0 | 0/0 | +0.450 |
| Bangladesh | 1 | 1 | 1 | 2 | 0/0 | -0.450 |