Ambuluwawa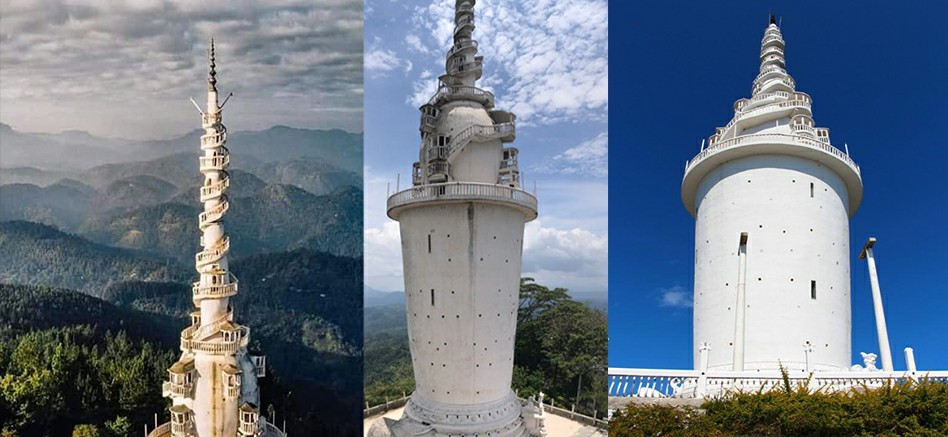 Ambuluwawa
Ambuluwawa is a beautiful hill station in Gampola town in the Kandy district. 3567 feet above sea level.
Ambulawa is located in the vicinity of the Sripada, Knucklesba Talagala and Hanthana mountains.
Surrounded by beautiful flora and fauna, this beautiful environment has recently been introduced as a hot spot for biodiversity.The Almighty Temple on the top of the hill adds to the beauty of the place.
He spearheaded the advancement of Ambulakawa, which had not been in the spotlight for a long time. DM This is Mr. Jayaratne.
Entrance
The easiest way to reach Ambulawa is to travel to Take the road from Gampola to Gampola to Hematagama. This road crosses the Ambulava. The place is not difficult to find as it has a large board.There is also a parking lot nearby.
Google location
Beautiful surround
From there, you can walk on foot or by car to the all-pious shrine on the top of the hill. But because of the narrow lanes of the road, it is difficult to drive a bus or lorry. Another vehicle can be adjacent to the chapel, but it misses the great opportunity to enjoy the beauty of the surroundings.
It takes about an hour and a half to walk on foot. Quite tiring but it was a very enjoyable experience. About 200 plant species have been identified in Ambuluwawa. There are signs that rabbits are lurking around the road.
The whole environment is composed of different compositions. Located about 3/4 of the way from the exit, this restaurant is a great place to relieve your tiredness. With a cup of hot coffee, we arrive at another destination.
On the mountain…
Buddhist, Hindu, Catholic and Muslim shrines are located at the top of the religious center at the top of Ambulawa. But the most striking feature is the 400-foot Dagoba.The stairs are designed so that it reaches the Chuda manual.
This is an adventure for anyone who wants to climb. Three large tanks have been built at the top of the hill to meet the water needs of the families living at the foot of the mountain.
The cold and cold cool breeze, the fog that covers us from time to time, and the sound of echoing on the noble gem train bring a strange sweetness.Ambulawa. is an interesting food for anyone who enjoys the beauty of nature This is the beauty of Ambuluwa !!!
Facilities
There are no filling stations in the Ambulawawa area and the filling station is available at Gampola town. Finding accommodation in the area is also difficult. However, there are accommodations in the city of Gampola.